 "Everyday is another chance to get stronger, eat better, live healthier and to be the best version of you, why not start today?"
Complete customized diet and exercise plan with coaching of me online including weekly updates, personal chat and monthly update of diet and exercise plan. Everything happens via a smooth app on your smartphone. This is my recommendation, as it is important with support and support along the way. The alternative is a customized diet and exercise plan without coaching and monthly updates.

This is how it works:
You choose for yourself which service you are interested in and report your interest, soon I will contact you so we can discuss together what is the best plan for you. When this is done you will get your unique plan within 1-2 days and after that it is time to get started!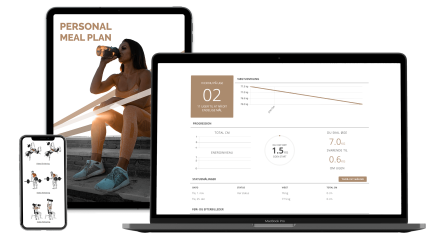 Personal trainer, mom and IFBB Pro
Exercise and health have always been a big part of my life, from during my youth years I devoted myself to equestrian sports with everything it entails of physical activity, responsibility and challenge to transition into more traditional strength training at the age of twenty.

The interest eventually became a profession after completing health developer education at Örebro University and I then took my licenses for personal training and nutrition advicer.

During my years as a toddler parent, I developed my interest in healthy cooking and experimented a lot in the kitchen. It resulted in good dishes and desserts, without compromising the nutritional content. Good taste with good macros. To eat healthy doesn´t mean boring!

For several years I competed in bikini fitness with great determination in combination with my job as PT and single mom. On the way, there were several gold medals with the national team and eventually I achieved my goal as one of the first in Sweden - to become an IFBB pro.

With my background, I know the meaning of fighting to achieve goals. How tough it can be to combine exercise and diet while living family life. And also how and what it takes to achieve their goals. The important balance of training and recovery. In my many years of being a personal trainer, I have learned how to identify the client's needs and conditions, and I am passionate about helping others find a healthier lifestyle, now I am finally ready to help more clients online!